Leaders looking to make greater impact and to improve performance of their team can do this by improving their emotional intelligence.  That is, their ability to notice, understand and influence emotion.
Research has proven that there is a clear link between emotional intelligence and leadership effectiveness .  Emotional intelligence in a leader is key to their capacity to facilitate emotions in others that drive high performance and employee engagement.
Emotional intelligence and leadership competencies reflect what leaders do with their emotional intelligence in the leadership of people. The Genos model of emotional intelligence competencies is shown below.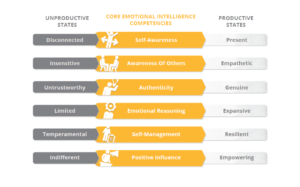 In this blog, I explore the first competency of the Model: Self Awareness and give you my top 5 suggestions to enhance this skill.
Self-awareness and its link to emotional intelligence and leadership
Self-awareness is the ability to notice and understand your own emotions.  To be able to understand what you are feeling at any given time, why you might be feeling that emotion and how you may react.  Putting it simply, self-awareness is knowing what makes you tick.
It is often described as a foundation skill because having self-awareness directly links and unlocks some of the other competencies of emotional intelligence.
In leadership, it is a fundamental skill. A self-aware leader:
knows their strengths and weaknesses
understands triggers they may have and how these link to potential biases and blind spots
has a good understanding of certain situations that may be linked to negative responses
has strategies to manage these trigger moments/situations
has a strong understanding of the impact their emotions can have on others
asks others for feedback and responds well to feedback from others
So, to develop our emotional intelligence and leadership, we first need to understand and interpret our own emotions.  Here are a few suggestions to help you start to understand and develop your self-awareness.
Do nothing consciouslyTaking actions is not always the first step. To begin with, do nothing. Simply notice what you are feeling in different situations.  Notice your feelings at different times of the day, with different people, different situations.  Observe your physical reactions to certain emotions and whether you are noticing any patterns.
Don't judge your emotions and embrace them

Approach the emotions you are noticing with curiosity and open-mindedness. Try to avoid dissecting them or considering them as good or bad.  They are just emotions that can be useful to our response. Be comfortable with the uncomfortable emotions, embrace them; these emotions are giving you vital information about yourself and what you could do differently.
Notice how your emotions affect othersObserve the impact your emotions can have on a room full of people or even at home.  The ripple effect that one emotion can have on others is very powerful and the more you notice it, the more aware you will become.
Journal your dayMake a note of the emotions you have been observing. Have you noticed anything that triggers you?  Those buttons that people press, what are they?  Simply knowing this is a very important first step to increasing self-awareness.
Reflect on core values and beliefsMake a note of your core values and beliefs. Being able to link actions we have had to values we fundamentally disagree with can be a powerful message to help us want to change.
Perhaps the most important tip is to enjoy the experience, tuning into ourselves and our emotions is fascinating, exciting, eye-opening and shouldn't be painful.
If you would like to find out more about emotional intelligence and leadership training and how Questline can help you or your organisation understand, assess and develop emotional intelligence and leadership get in touch. Contact us
Steph Nellis is a director and coach/ facilitator at Questline and a Qualified Practitioner of Genos Emotional Intelligence assessments.